On the second day of APEC-2006 SOM II in Ho Chi Minh City, seven meetings were held with the participation of more than 900 delegates. Among them are two sessions titled "APEC Study Center Consortium" (ASCC) conference and Public – Private Dialogue on Trade Facilitation.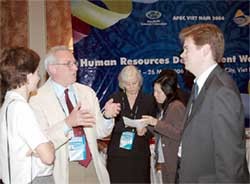 Delegates discuss during the break time

The ASCC conference, which attracted more than 150 scholars from over 100 study centers in 21 APEC member economies, aims to serve people's interests and strengthen mutual understanding among APEC members.

In his opening ceremony, Deputy Minister for Foreign Affairs and Chairman of APEC-2006 SOM, Mr. Le Cong Phung said that progress has been lagging in trade liberalization and investment of some key areas, which is a big challenge for APEC and its members. The economic and technical cooperation (ECOTECH) process has not been smoothly progressing due to the lack of interest and limited financial resources, thus negatively affecting developed economies in the region.

In the afternoon session, Mr. Le Dang Doanh, senior official of the Ministry of Planning and Investment, presented the economic reforms process in Viet Nam and some challenges facing the goals of sustainable development and equality. He stressed that Vietnamese newly-elected leaders pledged to continue economic reforms, combat corruption and make radical changes in business and investment environment.

Harmonization between the contents of economic and technical cooperation, trade and investment facilitation so as to ensure a level development in the APEC region are some matters of great interest to delegates.

The risk of lagging behind among APEC member economies

During the second session, the Investment Experts' Group (IEG) listened to a report on the results of Trade Facilitation Conference in Montreal, Canada on May 9-10.

Some issues such as the significant role of business legal framework in economic growth and business procedures' expenses (4-8% of GDP), which strongly affect small businesses, attracted much attention of the delegates. Some APEC members are being lagged behind other regions, especially the threat of losing out on investment flow, which is increasingly heading for new members of the EU, is real.

Therefore, it is essential to make changes in the system of business regulations and create attractive investment environment. In order to overcome challenges, Viet Nam will continue to make commitments with APEC economies, boost trade liberalization and investment facilitation, ensure secure and stable business environment, and strive for a common economic community in the Asia Pacific.

Reducing 5 percent of trade expenses

More than 200 representatives and scholars from 21 APEC members, the World Bank (WB), the United Nations Conference on Trade and Development (UNCTAD), the APEC Business Advisory Council (ABAC), and the private sector attended the Public-private dialogue session on trade facilitation.

After listening to the APEC Trade Facilitation Action Plan (TFAP) period 2001-2005 and businesses' feedbacks, the delegates proposed to reduce 5 percent of trade expenses in the second period (2006-2010), check the initiatives of trade facilitation in APEC region, WTO, WB and UNCTAD and evaluate the effectiveness of APEC trade expenses' reduction after 5 years' implementation of TFAP.

Major results of the dialogue will be reported to the upcoming Committee of Trade and Investment Conference (CTI) and SOM II.