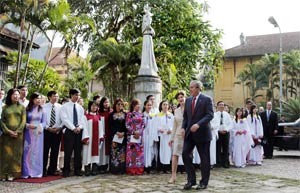 US President George W. Bush (C) and First Lady Laura Bush depart the Cua Bac churchl in Hanoi, Viet Nam, Nov 19, 2006.
US President George W. Bush and First Lady Laura Bush on Nov. 19 joined a congregation at Cua Bac church in Ha Noi as part of an official visit to Viet Nam where he is also attending the 14th APEC Economic Leaders' Meeting.
"Laura and I were proud to worship with believers here in Ha Noi," President Bush told journalists after the congregation.
"We were touched by the simplicity and the beauty of the moment. We appreciate very much the congregation for allowing us to come and worship with them," said President Bush.
The US President also expressed the hope that people all across the world would be able to express religion freedom and personal faith.
Source: VNA