Last week Viet Nam hosted the APEC 2006 Leaders Meetings, and yesterday the Vietnamese authorities in charge of hosting the event took time to review and celebrate it at the National Convention Center in Ha Noi.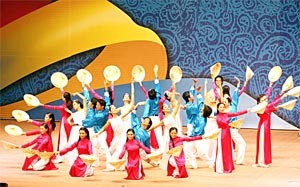 Art performance at the ceremony celebrating the success of APEC 2006 (Photo: VNA)
Speaking at the ceremony, the Prime Minister's special envoy and Chairman of Viet Nam's National Committee on APEC 2006, Vu Khoan said that APEC 2006 was successful in many aspects, from content, reception, and organization to bilateral and multilateral meetings.
 
Vietnamese officials had a multitude of aspects to coordinate for the week, most importantly, the meetings themselves, including five ministerial meetings and three senior officials' meetings.
They had plenty of practice, as Viet Nam played host to hundreds of conferences and bilateral meetings throughout the year leading up to the events of Leader's Week.  
 
In attendance for Leaders Week were more than 10,000 delegates from around the world here to participate in many important conferences. The culmination of all these meetings, conferences, and preparations was for the 21 APEC Economic Leaders meeting held on November 18 and 19.
 
"The successful organization of the ASEM meetings, Viet Nam's accession into the World Trade Organization, and APEC 2006 have brought new international recognition to Viet Nam and given new impetus to the country's development," said Mr. Vu Khoan.
 
Deputy PM and Foreign Minister Pham Gia Khiem went on to say that the overwhelming success of APEC 2006 illuminates the Party's outstanding leadership.
 
The ceremony to celebrate the success of APEC 2006 was attended by Vietnamese President Nguyen Minh Triet, PM Nguyen Tan Dung, former Party General Secretary Le Kha Phieu, as well as representatives of ministries, departments, and members of the Viet Nam Fatherland Front.
 
While the APEC 2006 meetings are over, it is clear that the results will be lasting. Many decisions made in Ha Noi will effect the economic development of the Asia-Pacific region for years to come.
But those decisions would not have been possible had it not been for the contributions of Viet Nam to facilitate those advances by offering the right environment to foster such impressive international cooperation.