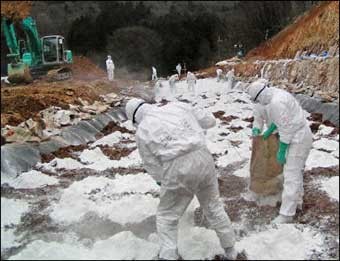 Japanese health workers scatter lime on dead chickens to kill the bird flu virus (AFP Filed Photo)

The Asia-Pacific Economic Cooperation (APEC)'s ministerial conference on bird flu on May 4-6 will draft policies to control avian influenza and outline an APEC action plan to prevent and fight the disease, which will include specific commitments on the work from every member economy.
APEC secretaries and 30 ministers from 21 APEC's economies will take part in the conference. In addition, there are three observer corporations, APEC Secretaries and other international organizations such as WHO, OIE, FAO.
Deputy Prime Minister Vu Khoan, Minister of Agriculture and Rural Development and Minister of Health will chair the meeting.

The conference will take place from May 4 to 6, 2006 at the Furama Hotel in the central coastal city of Da Nang.