"Towards a Dynamic Community for Sustainable Development and Prosperity" is the theme of the 14th Asia – Pacific Economic Co-operation forum hosted by Viet Nam. This year, the second APEC Senior Officials' Meeting (SOM II) and APEC Meeting of Ministers Responsible for Trade (MRT) will be held in Ho Chi Minh City from May 22 to June 3, 2006.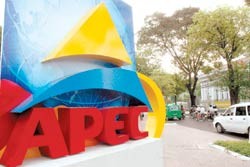 The symbol of APEC at the crossroad Ly Tu Trong - Nam Ky Khoi Nghia, HCMC

A well-prepared conference



From March 16, 2006, the APEC 2006's Organizing Committee of HCMC was established and chaired by Vice Chairman of HCMC People's Committee Nguyen Thien Nhan.

The organizing committee includes the Conference Organizing Committee and four sub-committees in charge of security, logistics, culture-media-marketing and protocol.

Each sub-committee has its own program, under the overall plan of APEC Viet Nam 2006. The assistance for the media to update information of SOM II and MRT is also given a priority. The APEC Secretariat and the Information – Propaganda Office under International APEC Secretariat will hold private meetings to provide local and foreign reporters latest updates of the conference.

Supporting programs are diverse

Art performance programs serving gala diners were held at top hotels such as Caravelle or Windsor Plaza. In order to give the impression of Vietnamese traditional art forms, more than 300 artists have gathered for rehearsal. Fifty models of Hoa Hoc Duong Models' Group will be performing receptionists' duties and their uniforms were designed by fashion designer Sy Hoang.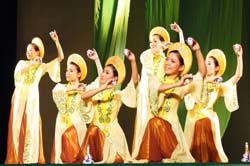 Art performance program at the HCMC Opera House in the evening of May 21
The sideline programs are also well set up for those accompanying delegates, especially some tour destinations such as markets, monuments, museums, galleries, showrooms, handcraft villages, etc.

A showroom of Export Products titled "Vietnamese Tourism: Gastronomy and Luxury Fine Arts and Handicraft Products" in 92-06 Nguyen Hue Street promise to be an attractive place. Also, a workshop to introduce Vietnamese gastronomy and teach how to make a Vietnamese dish for the ladies of APEC ministers and participants at Rex Hotel with the participation of HCMC Women's Cultural House is expected to be interesting.

From May 22 to June 15, 2006, two exhibitions of APEC paintings and Vietnamese Promotion will be held in Chi Lang Park and Bach Tung Diep Park.

Meaningful gifts

In the welcoming party, Chairman of HCMC People's Committee Le Thanh Hai handed the ministers and SOM leaders lacquer paintings with kettledrums on one side and the logo of APEC Viet Nam 2006, venues and HCMC website on the other side.

The delegates were given big handbags with APEC 2006 logo inside and a number of books introducing Vietnamese people and country as well as Ho Chi Minh City. Besides, Miss Ao Dai, a fashion company, also offered Vietnamese traditional dresses (ao dai) to VIP ladies.

Very well-prepared, that was a comment of Mr. Nguyen Thanh Chau, Head of Department of External Affairs and Vice Head of the APEC 2006 National Committee's Secretariat on the preparations of HCMC for SOM II and MRT.

Hospitality, effectiveness and security are the targets of not only HCMC's organizing committee but also the city people, because the success of APEC 2006 will raise the position of Viet Nam in terms of international economic and political relations and bring the image of a dynamic and peaceful country and hospitable outgoing people.