APEC economic leaders' meeting is also a good opportunity for Vietnamese agricultural products, including sweet potato, jackfruit, banana, grapes, coffee and so on in modern and attractive packaging to be presented to international visitors.
Most of these natural products were planted and processed by the modern and advanced method of production, meeting food safety standards.
According to Mr. Nguyen Lam Vien, director-general of Vinamit Trading Co. Ltd., specializing in production and trade of dried fruits such as jackfruit, banana, sweet potato, taro, mango and pineapple, about 65-70% of the company's output is for export.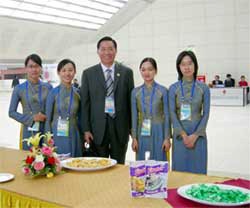 Processed produce of sweet potato, jackfruit, banana of Vinamit are served to APEC Viet Nam 2006
After the drying process, the nutrition, natural color and flavor of the raw materials are fully retained and the value of the product has increased ten to hundred times. One kilo of sweet potato is worth about VND1, 000 in the local market. Vinamit will buy it at a stable price of VND1, 500-2,000, then sell their processed products in the foreign supermarkets at the price of VND150, 000/kilo.
Vinamit has invested successfully in farming raw materials of jackfruit, banana, sweet potato, taro, mango and pineapple in the southeastern region and highlands. The company will expand the cultivating areas in Mekong Delta' provinces in the coming time.
110 boxes of fruit chips weighing 500 kg totally, produced from 2 tons of fresh fruit, will be a chance to demonstrate the quality and superiority of Vietnamese farm products to international friends in APEC Viet Nam 2006.
Together with Vinacafe's products, the G7 instant coffee of Trung Nguyen Coffee has been introduced in APEC's Senior Officials Meetings (SOM) and APEC economic leaders' meeting. Twenty coffee makers with the most modern Italian design have been imported into Viet Nam by the company to serve APEC.

The Lam Dong Foodstuffs Joint Stock Company, one of three wine suppliers, including Ha Noi Wine Company and Thang Long Joint Stock Company, for the APEC Viet Nam 2006, will provide 1,000 bottles - 300 Dalat White, 350 Dalat Superior Red and 350 Dalat Premium Red, made from grapes or mulberries. The products are quite familiar to domestic and foreign customers.

APEC Week is an opportunity for marketing Vietnamese products, which are still facing difficulties in competition with the world's leading groups in domestic and foreign markets. They have to be more self-confident and face challenges to be successful after Viet Nam's WTO entry.