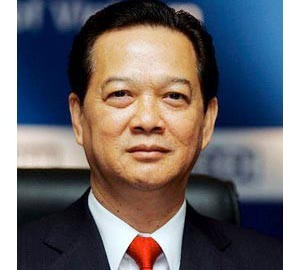 Prime Minister Nguyen Tan Dung
Prime Minister Nguyen Tan Dung arrived at Andrews Air Force Base in the afternoon of June 22 (local time) to begin his official visit to the US as guest of President George W. Bush.
The Vietnamese Government leader was welcomed by Deputy Assistant Secretary of State Scot Marciel, American Ambassador to Vietnam Michael Michalak, Vietnamese Ambassador to the US Le Cong Phung and others.
As scheduled, PM Dung will meet several important US figures on June 23, including Wisconsin's Secretary of Administration Michael Morgan, former Secretary of State M. Albright, who is foreign policy advisor for Democratic presidential candidate Senator Barack Obama.
He will have a working session with the Vietnam-US competitiveness consultancy council and receive representatives of some leading US conglomerates.
Regarding PM Dung's US visit, Vietnam's national Nhan Dan daily on June 22 editorially said that the visit demonstrates Vietnam's goodwill and efforts to speed up the execution of the agreements shown in the Vietnam-US Joint Statements in 2005 and 2006 indicating their aspiration to establish "a multi-faceted cooperative, friendly and constructive partnership between the two countries on the ground of equality, mutual respect and mutual benefit".
The army newspaper, Quan Doi Nhan Dan, said on June 23 that the visit is made at a time when the Vietnam-US relationship has been growing in line with the framework of "a multi-faceted cooperative, friendly and constructive partnership on the basis of equality, mutual respect and mutual benefit and has entered a new stage based on broad, stable and efficient foundation.
The paper noted that the visit also aims to execute Vietnam's foreign policy of openness, multilateralization and diversification of its international relations, including its ties with the US.
Besides, PM Dung's visit will offer a chance for both countries to work out measures to continue strengthening and developing their friendship and multi-dimensional cooperation, especially in economy, trade, investment, education and training, science and technology, the environment, the settlement of humanitarian issues, and promoting overseas Vietnamese's contributions to the homeland, the paper said.