To welcome the second APEC Senior Officials Meeting (SOM II) and the Minister Responsible for Trade (MRT) meeting, the organizing committee of SOM II held a reception at the function room of the Reunification Palace on May 29 evening.

Chairman of APEC-2006 SOM and Deputy Minister for Foreign Affairs Le Cong Phung chaired the Wine Contest with the participation of 300 APEC delegates and leaders of ministries, branches, people's committees and HCMC Department of External Affairs.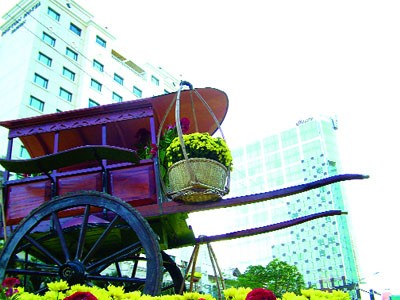 Viet Nam wishes to introduce the image of a traditional but modernized country to the international friends (Photo: SGTT)
Under APEC customs, the host economy will hold a wine contest on the sidelines of SOM II. The contest aims to demonstrate cultural diversity and co-operative, friendly relationship among APEC members, and is also a chance for Viet Nam to introduce its cultural characters to the international friends.

The contest attracts wines from Japan, Mexico, Thailand, New Zealand, China, Korea, Russia, Taiwan, Australia, the United States, Chile, Canada, Peru and Viet Nam.
There will be cups and certificates for APEC 2006 Best White Wine, Best Red Wine and Best Liquor, and the awarded members will be announced at the official opening plenary session of SOM II on May 30, 2006.

Earlier, 22 SOM chiefs of 21 APEC member economies and 4 chairpersons of the Committee on Trade and Investment (CTI), the SOM Steering Committee on Economic and Technical Co-operation (SCE), the Budget and Management Committee (BMC) and the Economic Committee had attended the plenary session to prepare the agenda for SOM II, officially held on May 30.