Eleven top tool and machinery manufacturers from Italy are coming to Vietnam to explore business and investment opportunities, the Italian Trade Commissioner announced in Ho Chi Minh City Wednesday.

Mr. Marco Saladini told a press briefing in the city that the 11 companies would be featured at the Italian national pavilion at this year's Vietnam Machine Tools and Automation Exhibition, or MTA Vietnam 2011, staged from July 5 to 8 at the Saigon Exhibition and Convention Center in District 7, HCM City.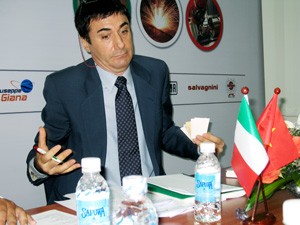 Italian Trade Commissioner Marco Saladini gestures as he speaks at a briefing about 11 Italian companies coming to Vietnam, on June 29, 2011 in Ho Chi Minh City (Photo: Tuong Thuy)
The mission is a joint effort by the Italian Trade Commission and the Association of Italian Manufacturers of Machine Tools (UCIMU), he added.

"The slogan we chose this year is 'Our secret: performance and flexibility'. It is meant to remark further progress in producers' attention to local customers needs, especially given the increased level of competition they are facing now both at home and abroad," said the Italian Trade Commissioner.

Of the 11 companies, six are newcomers at the MTA show, while the others joined previously, said Mr. Pham Hoang Tiet Truc, trade analyst at the Commission.

The new faces are CEMB Balancing Machines, FPT Industries, CORAL, Elettronica Valseriana, Mario di Maio, and Molemab. The five others are BLM Group, Giuseppe Giana, Pama, Salvagnini, and Sertom.

What among the mission expects from the Vietnamese market are selling machines directly and looking around for distributors, said Mr. Saladini.

The Italian companies are suppliers and manufacturers specialized in mechanical and metallic engineering from bending, pressing to grinding, drilling, cutting, welding, and piping production for cleansing and painting, he said.

In terms of bilateral trade between Italy and Vietnam, he said, "Our statistics show that Vietnam is one of the fastest growing markets in Asia in the last few years for machine tools.

"Even though sales decreased in 2010, based on longer term analyses and industry news about recent transactions, the Italian Trade Commission is positive that bilateral trade and investment in this sector will achieve very good results in the next 12-18 months.

"Thus, MTA 2011 is very much expected to facilitate sustainable cooperation between Italian and Vietnamese businesses in machine tools and engineering."

The trade representative said Italy's machinery exports to Vietnam were still low, with a market share averaging 4% between 2005 and 2009, encouraging outcomes have been seen in sales trend in the past few years.

Italian machine tools most consumed in Vietnam last year were lining machines (47%), cutting machines (15%), bending machines (13%) and laser cutting machines (9%), according to him.

Mr. Saladini said the Italian Trade Commission in Vietnam has made many efforts to boost Italy's exports to the Southeast Asian country, but Italian companies, in general, still lack of market information. The agency has made market surveys and reports towards this end, and will keep doing this, together with other activities like visiting trade missions and workshops, he said.

The executive also confirmed that his agency would see some budget cuts from the Italian Government, but gave no figures.