The largest Italian business mission including representatives of 160 Italian companies, consortiums and associations are visiting Vietnam four days until November 7 to look for business and investment opportunities.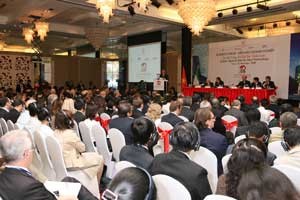 A view of the Vietnam-Italy business forum in Hanoi Nov. 5 (Photo: Hoa Pham)
As part of the program, a Vietnam-Italy business forum was held in Hanoi on Nov. 5 with the participation of Vietnamese Deputy PM and Foreign Minister Pham Gia Khiem, Italian Minister for Economic Development Claudio Scajola, who is leading the Italian mission, Italian delegates and representatives of Vietnamese companies. 
Speaking at the forum, Deputy PM Khiem urged the two governments to work together, focusing on major projects in Vietnam in which Italy can invest, as well as creating the favorable conditions to successfully carry out these projects.
Mr. Khiem proposed the establishment of a task group to resolve a number of difficulties faced by Vietnamese and Italian businesses in a move to foster bilateral economic relations.
He emphasized the need to increase the flow of information between the two nations in order to help businesses from Vietnam and Italy to better understand each other.
Italian Minister of Economic Development Scajola said that all Italian investors have expressed satisfaction over their decisions to invest in Vietnam and are planning to expand their operations within the Southeast Asian country.
During the forum, two business promotion agreements were signed between the Italian Institute for Foreign Trade and the Vietnamese Ministry of Planning and Investment's Foreign Investment Agency, and between Italy's SIMEST and Vietnam's State Capital Investment Corporation. SIMEST is the development finance institution dedicated to supporting and promoting the activities of Italian companies abroad.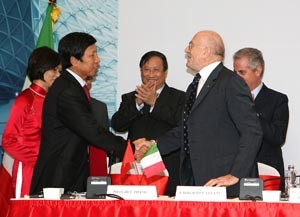 Phan Huu Thang (L), head of the Vietnamese Foreign Investment Agency, shakes hand with Italian Institute for Foreign Trade president Umberto Vattani (R) after they signed their deal (Photo: Hoa Pham)
Representatives of 11 Italian banks, including UniCredit and Banca Intesa San Paolo, the two largest financial groups in Italy, are participating in the mission, according to the Vietnam News Agency.
Besides the banks, the Italian delegates come from manufacturing and service companies, and business associations.
Stefano Acerbi, a representative from the Vicenza regional business association, said that he predicted substantial investment from Italian businesses in Vietnam, particularly in such areas as engineering mechanics, fashion and oil and gas.
According to Silvia De Mase, Director of Banco Popolare Bank's International Development and Strategy Division, high consumption demand, political stability and great economic potential in Vietnam with a population of 85 million are factors attractive to Italian companies.
After Hanoi, the Italian mission is visiting Ho Chi Minh City on Nov. 6-7. Italian Trade Commissioner Marco Saladini said there are many business-to-business meetings between the two sides during the programs.
Mr. Saladini said, "Italian companies are strong in production flexibility and specialization, in creativity when it comes to design and in processing innovation, coupled with the ready availability of a trained and proactive labor force."
According to the Italian Trade Commission, bilateral trade between Vietnam and Italy has grown from US$320 million in 1996 to US$1.5 billion in 2007. Vietnam's imports include Italian leather, medical equipment, chemicals, household commodities, construction and transportation equipment. Italy's imports include Vietnamese footwear, textiles and garment, coffee and aquatic products.
Italy now ranks ninth among EU countries investing in Vietnam with 28 projects capitalized at US$114 million.

Related articles
Biggest Italian business mission to come knocking doors

Two more Italian factories to be built in Vietnam