Two EPC contracts, worth US$1.7 billion, were signed between PetroVietnam, the Vietnam Construction and Machinery Installation Corp., Petro Vietnam Nhon Trach 2 Power Joint Stock Co. (PVP) and Petro Vietnam Construction Joint Stock Corp. on April 9.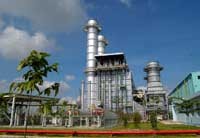 Nhon Trach 1 Power Plant, which has a capacity of 450MW, started providing power last year. Costruction of Nhon Trach Gas-Fired Plant 2 will be completed within 30 months.
PetroVietnam signed an EPC (engineering, procurement and construction) contract, worth $1.2 billion, to build the 1,200KW Vung Ang 1 Power Plant with the Lilama.
PVP, PetroVietnam and Lilama also signed an EPC contract to build the 750KW Nhon Trach 2, worth $524 million.
The two plans were approved by the Prime Minister.
Vung Ang 1 thermo-electricity plant in Ky Loi Commune, Ha Tinh Province will be the largest power plant in Vietnam and is expected to be completed in 2012. The plant aims to supply 6.1 billion KWh of electricity per year.
The Nhon Trach Plant, in southern of Dong Nai, will be carried out in two phases: construction of Plant No. 1, with a capacity of 450 MW, was completed in 2008, and Plant No. 2, with 750 MW, which is scheduled to be completed in 2011.
The two projects will provide 11.7 billion KWh per year.