As scheduled, tonight (Mar 9) Dak Lak province is holding the opening ceremony to mark 5 th Festival of Buon Ma Thuot Coffee with 500 domestic and international participants.
200 artists form the Central Theatre, the art unit Hanoi, Ho Chi Minh City, Lam Dong, Dak Nong, Gia Lai, along with Canadian traditional music and dance artists will be performing in the opening ceremony with the theme "Plateau colorful identity".
The 2013 Buon Ma Thuot Coffee Festival, will be attended with the representatives of the ministries of Foreign Affairs, Industry and Trade, Agriculture and Rural Development, Culture, Sports and Tourism, Information and Communications.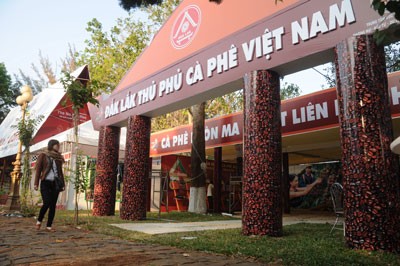 A shop introducing the origin of and displaying Dak Lak coffee products in the festival exhibition.
Other prime participants include the Vietnam Coffee and Cocoa Association, Trung Nguyen Coffee Joint Stock Company, Vinacafe Corporation and the provincial people's committees of Gia Lai, Kon Tum, Dak Lak, Dak Nong and Lam Dong
Becoming a biennial program since 2011, the Buon Ma Thuot Coffee Festival is a national-level event to regularly promote Vietnamese coffee to the world. Over the last two decades, Vietnam has grown from a minor player in the global coffee industry.
Because of its climate, Vietnam is better suited to growing harsher, stronger robusta coffee that is often processed into instant coffee drinks used worldwide. Vietnam is the world's biggest robusta exporter.
Vietnam's booming coffee industry is building its global brand by organizing coffee festivals and conducting a nationwide search for the nation's first-ever coffee "ambassador".
She'll be at the forefront of a campaign to promote the image of Vietnamese coffee both within the country and to the global market.
The winner of this ladies-only contest will be announced on March 10 at the country's 2013 Buon Ma Thuot Coffee Festival from March 9 to 12 in Central Highlands' Dak Lak province, Vietnam's coffee growing hub.
The goal is to select best 25 candidates, from whom one will be pointed as Vietnam's coffee ambassador.