SAP, a global market leader in enterprise application software, organized the SAP World Tour 2011 – Vietnam leg in Ho Chi Minh City Thursday to share with the participants how its software products can help companies run better.

More than 250 customers and partners joined the meeting at the Sheraton hotel, SAP Vietnam managing director Srinivas Adimulam told a press briefing right after the one-day event.

The one-day event featured "a comprehensive showcase" of SAP's innovative solutions such as Mobility, Business Intelligence, HANA and In-memory computing, said P. Subramanian, head of Business Analytic and Technology, SAP Southeast Asia.

He explained that HANA meant high-performance analytic appliance.
Southgate, SAP's business development manager for Enterprise Mobility, illustrated enterprise mobility solutions with an Ipad. He said it was suitable for those who were often outside the office like the sales staff and did not have enough time to get back to office frequently.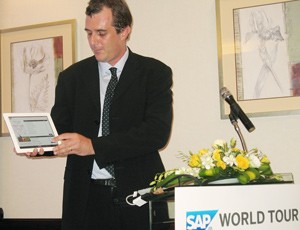 Tristan Southgate of SAP explains the Enterprise Mobility concept with an Ipad at Thursday's press briefing in Ho Chi Minh City (Photo: Thuy Nguyen)
Southgate also talked about how Enterprise Mobility could make data confidential if the mobile device was lost.

Tim Moylan, President of SAP South East Asia, said, "To maintain their competitive positioning, companies need to be empowered with innovations like mobility so that they can stay ahead of competition and meet sustainable corporate strategies.

"They can now innovate their business around a stable and consistent core and take advantage of new technologies such as In-Memory computing, mobility and cloud computing, without disruption," he added.

Hoang Anh Gia Lai, a major multi-business group in Vietnam, will start to carry out its Enterprise Resource Planning (ERP) project with solutions provided by SAP in the next few days, said SAP Vietnam managing director Adimulam.

The ERP project runs on infrastructure with IBM servers and storage equipment consulted and implemented by Vietnamese company CSC, according to him.

The group, a leading one in Vietnam, says the project is carried out in the business areas of real estate, rubber exploration, mining and hydropower. The group, better known as HAGL, is currently expanding its brand overseas.