The five-star Caravelle Hotel in Ho Chi Minh City is celebrating its 50th anniversary, cutting its room rates by 50% through this December for bookings made this month.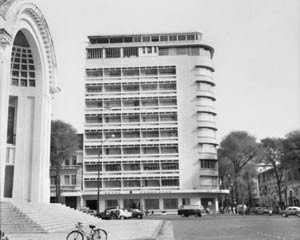 The Caravelle on Rue Catinat (now Dong Khoi Street) during the 1950s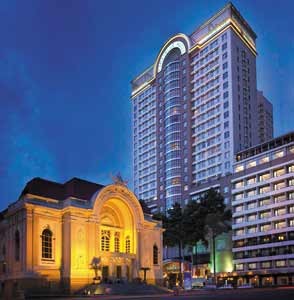 The Caravelle at present. Next on the left is the Opera House.

"This year we celebrate a golden anniversary. It's been 50 years since the original hotel opened its doors and embarked upon its stories journey," Caravelle general manager John Gardner told a May 7 press conference.
Renowned wartime journalist and Pulitzer-prize winner Peter Arnett and Robert Wiener, another wartime journalist, served as key speakers at the conference.
The general manager added that the hotel was home to a number of international media organizations during the early years, as well as the embassies of Australia and New Zealand.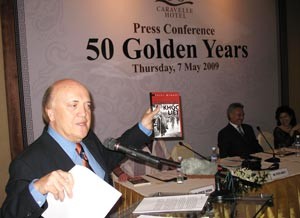 Peter Arnett speaks at a press conference on the Caravelle Hotel's 50th anniversary in Ho Chi Minh City May 7 (Photo: Tuong Thuy)
Deputy general manager Pham Thanh Ha said New Zealand-American Peter Arnett "has long attachment with Caravelle as a special guest but also a historic witness.
Arnett elaborated, "For me it was the most famous hotel in which I had ever stayed in when I first came to Saigon 47 years ago as a kid reporter."

"The brilliant television journalist Jack Lawrence of CBS has written a lot more about the Caravelle and his special perspective on the war in his wonderful book the Cat from Hue," said Arnett, who filed more than 3,000 dispatches from Vietnam as an Associated Press correspondent during the war.

"Another recommendation for desirable press hotels is good bathroom facilities. George Esper of the Associated Press had not traveled much abroad when he arrived on his first assignment to Vietnam in 1965. He expressed surprised delight that his Caravelle room had a special toilet bowl for washing his dirty boots until we informed him that he was using an appliance generally reserved for intimate use by women," Arnett said.
The Caravelle opened in 1959. It was renamed Doc Lap (independence) in 1975.
In October of 1992, for further its developing, Saigontourist Holding Company, teamed with Glynhill Investment Vietnam (a venture of Hong Kong's Lai Sun and Singapore's Keck Seng) as a joint investment partner in a new company called Chains Caravelle Hotel Joint Venture Company that sought to revive the landmark property, renovated 135 rooms to 75 bigger rooms.
The hotel made a comeback in 1998, with the refurbishment of the original 10-story, building and the complement of a 24-story tower.