To honour the best foreign-invested companies in the country, the Golden Dragon Award is presented annually by the Vietnam Economic Times in conjunction with the Foreign Investment Agency of the Ministry of Planning and Investment.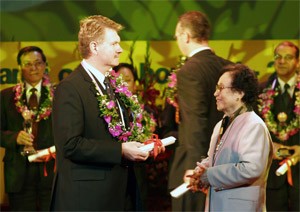 Nguyen Thi Binh(R), honourable chairman of the Golden Dragon Award gives Dr Andrew Scown, Vice President of RMIT University Vietnam(Photo:P.Duy)
The latest awards, the sixth batch to date, were presented at the Ha Noi Grand Opera House on Sunday.
Each of the 60 award winners received a crystal trophy adorned with a pure gold dragon from senior officials of the party, government and agencies before a large audience of business people and reporters.
Among the presenters were Chairman Pham The Duyet of the Fatherland Front, former Vice President and Golden Dragon Award Chairwoman Nguyen Thi Binh and former Deputy Prime Minister Nguyen Manh Cam.
The Golden Dragon is the only annual award for Viet Nam's foreign-invested business sector.
Golden Dragon Award Winners:
1. Honda Vietnam
2. Language Link Vietnam
3. Chinfon Haiphong Cement Corp.
4. Yamaha Motor Vietnam
5. Zamil Steel Buildings - Vietnam
6. Joint Venture Brewery
7. Toyota Motor Vietnam
8. Triumph International
9. Vietnam Manufacturing and Export Processing (VMEP)
10. INAX - Giang Vo Sanitary Ware
11. Mercedes-Benz Vietnam JV
12. Ford Vietnam
13. Ernst & Young Vietnam
14. Vedan
15. Acecook Vietnam
16. Hewlett-Packard Vietnam
17. Cargill Vietnam
18. Rossano Design
19. Citigroup Vietnam
20. Unilever Vietnam JV
21. ABB Industry
22. Vinata International Joint Venture
23. Sanofi Synthelabo Vietnam
24. MTS Vietnam
25. Maersk Vietnam
26. KPMG
27. Panasonic Vietnam
28. LG Electronics Vietnam
29. Tainan Textile Vietnam
30. LS -Vina Cable JV
31. Vietubes Corporation
32. Sony Vietnam
33. Hong Kong and Shanghai Banking Corp. (HSBC)
34. Coca-Cola Southeast Asia
35. Toshiba Vietnam Consumer Products
36. TAYA (Vietnam) Electric Cable and Wire J.S.C.
37. Kimberly Clark Vietnam
38. Hyundai Vinashin Shipyard
39. ANZ Bank
40. Cai Lan Oils & Fats Industries
41. Vietsovpetro JV
42. Nghi Son Cement
43. Fujitsu Computer Vietnam
44. TNT Vietrans Express Worldwide (Vietnam)
45. Ascott Group
46. V-TRAC Infrastructure Development
47. Akzo Nobel Coatings Vietnam
48. TCL (Vietnam) Corporation
49. Aon Vietnam
50. Prudential Vietnam Assurance
51. IBM Vietnam
52. RMIT International University Vietnam
53. European Plastic Window
54. Bluescope Steel Vietnam
55. Hue Brewery
56. Total France Representative Office
57. Vinacapital Corporate Finance Vietnam
58. Nam Con Son Pipeline
59. Apollo Education and Training
60. Procter & Gamble Vietnam