The Vietnam Standards and Consumers Association (Vinastas)'s southern office said that last year it received 181 complaints and 207 opinions from consumers about products available in the local market, nearly 21 percent more than in 2008.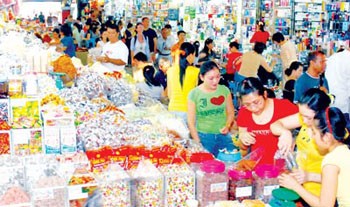 Consumers choose cakes and jams in Ben Thanh Market, HCMC
Sixty-two percent of the respondents said they had bought fake or low-quality goods last year, with electronic and household items topping the list. These products accounted for around a quarter of the fake and low-quality items that were complained about.
Foods, especially fresh milk and bottled beverages, followed with 18 percent.
In the services sector, post and telecommunications fared the worst with 21 percent complaining about them. Most complaints were not resolved either, especially those related to telephone and Internet charges.
Vinastas said the numbers do not accurately reflect the proportion of consumers who buy fake and low-quality goods, or who experience trouble with services, which is likely much higher.