A member of Vietnam Shipbuilding Industry Group (Vinashin) on November 26 launched a 6,500 ton container ship named Vinashin Southern No.1 in the northern port of Hai Phong.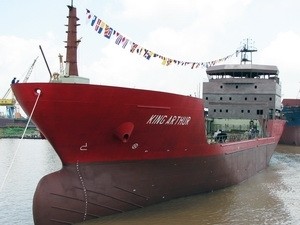 One of ships is built by Bach Dang Shipbuilding Industry Corporation.
The ship is expected to hand over to the Southern Shipbuilding Industry Investment and Development Company by the end of this year.
The Bach Dang Shipbuilding Industry Corporation, one of the leading members of Vinashin, is racing against the clock to complete all this year orders, including a 1,700 TEU container ship and oil-tankers, a 17,500 ton container ship for a Korean customer and a 14,600 ton ship for the Nghi Son Cement Corporation.