The Vietnamese Prime Minister has just decided to offer 15 gold and 62 silver prizes of the 2016 National Quality Awards for 77 small- large sized enterprises.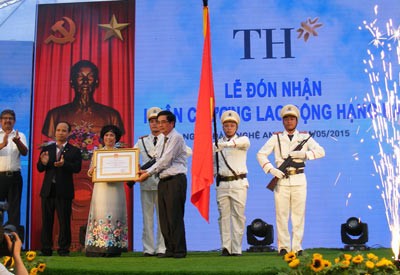 TH True Milk - one of enterprises receives the national quality awards
The gold prizes were offered for eight large sized companies, including DOJI Jewelry Vietnam, Nam Ha Pharmacy, TH Milk, Vietnam Paper Company, Dat Viet Pottery Company, Binh Son refinery company, Thanh Thanh Cong Tay Ninh Joint Stock Company, Delta Sport Joint Stock Company; six small and medium sized companies as Taya Vietnam Electric Wire and Cable Joint Stock Company, Institute of Veterinary in the Central, Ngoc Linh Pharmaceutical and Ginseng trading company in Quang Nam, Binh Dien Joint Stock Company in Quang Tri, Joint Stock Company of Thai Binh Seed Corporation, Viet Duc Steel Joint Stock Company; and one small service company named Long Hau Joint Stock Company.
22 out of 62 enterprises receiving silver prizes are the large sized enterprises of production, three large enterprises of service, 29 small-medium sized enterprises of production and eight small- medium sized enterprises of service.