The Asia Commercial Bank (ACB), Viet Nam's second largest joint-stock bank by capital, announced on Wednesday it has won a license to join the country's stock market, becoming the second bank to list shares after Sacombank.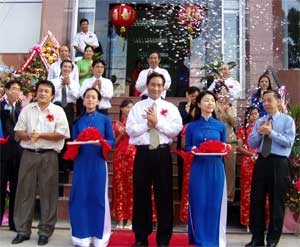 Mr. Tran Ngoc Minh (C), director of the State Bank of Viet Nam's Ho Chi Minh City Branch, and ACB management celebrate the opening of an ACB branch. (Photo: Tuong Thuy)
The Ho Chi Minh City-based bank will this month list its shares on the Ha Noi over-the-counter market under the license from the State Securities Commission.
ACB will list 110,004,656 shares with face value of 10,000 dong. ACB is the 21st company with shares accepted for trading on the Ha Noi Securities Trading Center.
ACB's shares are currently trading at about VND10 million each.
Last July Sacombank, also a major bank based in Ho Chi Minh City, kicked off trading its shares on the main bourse, which houses 52 companies' shares.
In another related development, ACB finished the first issue of convertible bonds with VND1.65 trillion (over US$103.1 million) in the middle of October. The bank plans to launch the second issue worth VND1.35 trillion (about US$84.37 million) next year, perhaps in the first quarter.

Next year, VND1.1 trillion worth of bonds will be converted to ACB shares at the ratio of 1:1. The bonds remaining will be converted in 2008.

Related article
Asia Commercial Bank Issues Bonds for over $103 million