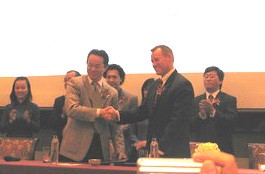 ACB chief executive Ly Xuan Hai (L) shakes hand with Chartis Vietnam acting CEO Ronald Hudon after signing their cooperation agreement Jan. 6, 2010
Asia Commercial Bank, in a joint program with American insurer Chartis Vietnam (formerly known as AIG Vietnam), has started to provide free insurance to all ACB cardholders.
The Ho Chi Minh City-based bank, commonly known as ACB, signed a cooperation deal with the American insurance company to carry out the program on Wednesday.
Cards covered by the program include Visa Debit, Visa Prepaid, MasterCard Dynamic, Visa Electron, MasterCard Electronic, AM2T+, and 365 Styles
The free insurance services include ATM assault protection, fraudulent enhanced protection, personal trip effects coverage, purchase protection, lost wallet, home protection while you are away, and personal trip liability protection.
ACB, a leading bank in Vietnam, has so far issued about 500,000 local and international payment cards.
In November last year, American insurance company AIG Vietnam was renamed Chartis Vietnam.