American Express International Inc. launched its American Express traveler's checks in Vietnam last Friday through the Asia Commercial Bank (ACB).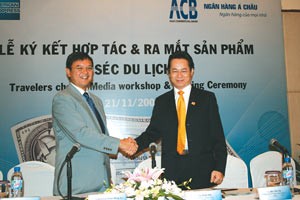 Lawrence Chan (L) of American Express and Ly Xuan Hai of ACB at the traveler's check launch last Friday
"We are delighted to partner with ACB to make our traveler's checks accessible to Vietnam as an important emerging market," Lawrence Chan, American Express vice president and CEO for traveler's checks and payments in Asia – Pacific, said at the launch ceremony.
Foreigners can now use the ACB network nationwide for the checks. The bank is distributing the checks nationwide through its 25 branches in the first month and via over 150 branches and transaction offices in the next five months, said ACB CEO Ly Xuan Hai.
"The distribution fee is 1.1%, including the value-added tax," he said.
Five currencies are accepted – US, Canadian and Australian dollar, euro and Japanese yen – with a total of 19 denomination options.
Before the product launch, American Express had conducted market research on Vietnamese students abroad, their parents and outbound Vietnamese tourists. The survey showed high potential among the students. Also according to the report, outbound Vietnamese tourists usually bring with them US$500-1,000 for Asian and $7,000 for American and European trips of one to two weeks.
American Express offers 24/7 global support services. The checks can be exchanged into local currencies at worldwide banks, foreign exchange agencies, authorized travel agencies and over 2,200 American Express travel services locations. If lost, the checks can be replaced at any American Express office worldwide.
All over the world, American Express traveler's checks can be exchanged at over one million locations. The company posted its traveler's check revenue worldwide at US$17 billion last year.