Two companies of the Asia Commercial Bank (ACB) signed a comprehensive strategic cooperation agreement with the Phu My Bridge B.O.T Company on Nov. 14 to act as financial consultants for Phu My.
Under the agreement, which was signed in Ho Chi Minh City, the ACB Securities Company (ACBS) and ACB Fund Management Company (ACBC) will provide Phu My Company with financial consultancy in business and investment.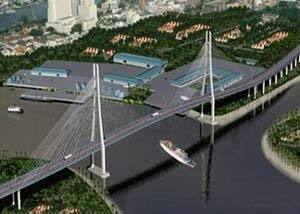 An artist's impression of Phu My Bridge in Ho Chi Minh City
For example, advice will be provided in financial structure, capital management, making investment decisions in the financial market and stock market, merging and acquisition, and issuing bonds and shares.
Ho Chi Minh City-based Phu My Bridge B.O.T Company is a major investment firm specializing in transportation infrastructure development. It is building Phu My Bridge over the Saigon River in the city, a VND2.6 trillion (US$153 million) project, and the approach roads to the bridge – a VND1.6 trillion (US$94 million) project. The suspension bridge will play a very important role in traffic in the southern hub.
Next year, Phu My will build Sai Gon 2 Bridge, also in the city, which requires about a US$120 million investment. Besides, it will take part in carrying out other major transportation projects in the country and they need investments of more than a billion of US dollars.