Asia Commercial Bank (ACB) inked last week a comprehensive cooperation agreement with non-life insurer PTI, a firm of the country's leading telecoms group VNPT.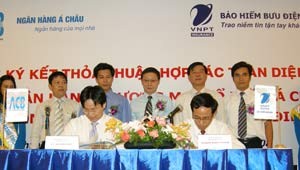 Representatives of ACB and PTI sign their deal in HCMC on Nov. 7
PTI agreed to distribute its insurance products and services via the Ho Chi Minh City-based bank's network.
The two sides agreed to sell insurance for owners of motorcycles, import and export items, and assets at the branches and transaction offices of ACB nationwide.
With VND4.65 trillion in current chartered capital, ACB is the nation's fifth largest bank in terms of this figure. It now has 732,000 individual and 55,000 corporate deposit accounts, and 65,000 individual and over 12,000 corporate lending contracts in Vietnam.