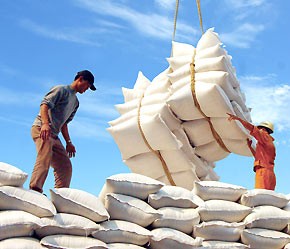 Vietnamese rice loaded for shipment (file photo)
Asia Commercial Bank, a major lender in Vietnam, said Sep. 1 that it has launched a low-interest credit service for rice exporters to buy the commodity for stock for shipments.
The Ho Chi Minh City-based bank said it would provide soft loans even when rice exporters have not signed export contracts, or have done this but the delivery time has not been finalized.
The lender said the loans are non collateral if the borrowers meet the bank's requirements, and they will enjoy other preferential treatments ACB is providing for exporters in general.
Vietnam exported almost 4.5 million tons of rice between January and August, according to industry statistics.
Vietnamese businesses have signed contracts to export 5.6 million tons, Nguyen Tho Tri, vice chairman of the Vietnam Food Association said on August 28.