The UK-based Association of Chartered Certified Accountants (ACCA) has announced that Vietnamese laws and corporate taxation would be included in the ACCA examination to be held this December in Viet Nam.
This is a new step in the roadmap to fulfil the commitment signed between ACCA and Viet Nam's Ministry of Finance in 2003 concerning the localization of ACCA international examinations in Viet Nam.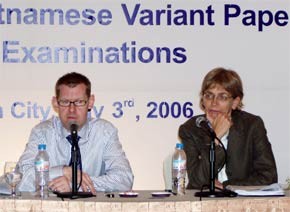 Mr. Hatfield and Ms. Leonetti introduce two new subjects in Ho Chi Minh City (Photo: Tuong Thuy)
At a seminar in Ho Chi Minh City on May 3, Mr. Alan Hatfield, Head of Learning Partnerships of ACCA and Ms. Aude Leonetti, Director of Education, provided information related to the ACCA examination this December, which will include the two new subjects.
Mr. Hatfield and Ms. Leonetti flew to Ha Noi the next day to chair a similar seminar in the capital on May 5. Then, they will work with the Ministry of Finance to finalize new contents in the two new subjects.
Ms. Nguyen Phuong Mai, ACCA Chief Representative in Viet Nam, said ACCA would attribute the Vietnamese Enterprise Law and tax system in its program from December 2006. Vietnamese students of ACCA can choose to take the two subjects in their ACCA examinations, while the subjects are compulsory in the examinations for expatriate accountants seeking employment in Viet Nam.
According to Mr. Bui Van Mai, director of the ministry's Accounting Policy Department, from now to 2010, Viet Nam's accounting and auditing sector expects to set up about 100 companies providing accounting services with a combined workforce of 1,000 to 1,500, with 30% of them holding an international auditor certificate.
ACCA certificates are recognized internationally. ACCA has been present in Viet Nam for more than five years, and 130 auditors in the country have received ACCA certificates. 
Link
ACCA

ACCA microsite about changes in its professional scheme qualification