Vietnam enters 2012 with mounting challenges and remaining structural weaknesses but a consensus on restructuring the economy has been reached and it would take time to translate it into reality, a World Bank senior economist said at an economic forum in Ho Chi Minh City Monday.
Mr. Doan Hong Quang said this at a forum held by the Britain-based Association of Chartered Certified Accountants to look at challenges and opportunities for Vietnam's economy this year.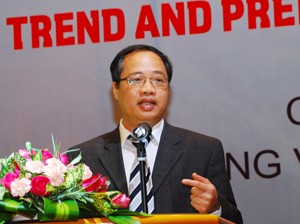 World Bank senior economist Doan Hoang Quang addresses the forum in Ho Chi Minh City on January 9, 2012 (Photo: Tuong Thuy)
Such a consensus has been made but the formulation of a feasible action plan may need time to accommodate different interests and ensure broad support, said the WB senior economist.
"Twenty-five years ago Vietnam turned a crisis into an opportunity. It started with a consensus, but it took few years to translate the vision into a detailed action plan."
"Now Vietnam can use the power of the market and the facilitating role of the state to chart a new course to create a more efficient economy and a more productive society." Mr. Quang said.

He said such a path would require embracing the market principles more firmly than it has done so far, and it would involve three I's.
The first is "Institutions". This includes land use right; independent regulators for the infrastructure sector; a commission for State-owned enterprise reform; and a performance monitoring system for SOEs.
The second I is "Incentives", he said. It includes inter-governmental fiscal incentives, and equitization of SOEs. Meanwhile, the third I is information. Mr. Quang said it involved disclosure policy for SOEs, publishing detail state investment budget, and transparency in land transactions.
The WB senior economist also mentioned transparency in State decision-making process. As for areas in need of greater attention, he said the first was greater compliance with fiscal transparency principles. The second is to further improve the comprehensiveness, reliability, and timeliness of fiscal information.
To strengthen the capacity of the oversight institutions is the third, and the fourth is further improvement of the predictability of macroeconomic data release.
Mr. Pham Hong Hai, head of global markets with HSBC Vietnam, served as another speaker at the forum.
He said, "We don't know how the market in 2012 would turn. What we are certain is that 2012 will be the year of uncertainty."
With the ongoing euro crisis, debt ceiling issue in the US, slowing growth in emerging markets and economic restructuring in Vietnam, "business will need to be very cautious in growing the business," he said.

"Those businesses who could take advantage of market opportunities such as consolidations or merger and acquisition and overcome challenges such as tight funding and/or liquidity will succeed in 2012."
The banker said the State Bank of Vietnam would continue to impose credit growth cap this year at 15-17% to control inflations. Meanwhile, funding and/or liquidity remains tight, and funding from European banks could be affected due to the current euro zone crisis.
The HSBC executive talked about some ways to overcome challenges.
"Funding and/or liquidity is much more critical than profitability. Carefully manage market risks, such as interest rate and foreign exchange risks. Manage counterparty risks carefully."
Another way is to choose the right banking partner, he said, adding that enterprises need to be prudent in growing their business.
Mr. Hai also mentioned an alternative funding solution if funding in Vietnamese dong is hard to get access to. It is cross currency swaps, a way to help companies borrow loans from offshore. This is to overcome onshore lending capability constrain, he said.
The two other speakers at the forum were Dr. Le Dang Doanh, Former Director of the Institute of Economic Management, and Mr. Andy Ho, Managing Director of VinaCapital.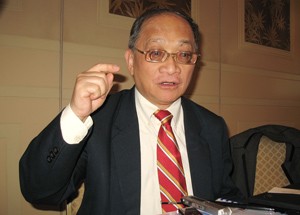 Dr. Le Dang Doanh makes a point during the economic forum (Photo: Tuong Thuy)
Dr. Le Dang Doanh said Vietnam has had to deal with a number of issues, including high inflations, the securities market at the lowest level and real estate market declining.
"Vietnam's Government has implemented Resolution 11 to control inflation and stabilize the macro-economy, but more efforts need to be done. For the year 2012 changing the growth model and restructuring the economy is on the agenda."
Andy Ho, in his presentation, talked about the outlook for 2012.
"This year is a year of improved stability but with below average growth. Challenges continue to be the country's political will and an austerity package. However, the prospects are good."
Dr. Doanh, a renowned expert, gave the participants his pieces of advice in the panel discussion session. For example, enterprises should generally focus on a business shake-up to make them stronger from inside during the economic crisis rather than expansion, according to him.
The forum organizer – the Britain-based Association of Chartered Certified Accountants – is an international professional accounting and auditing organization with members in many countries across the world.