The UK Association of Chartered Certified Accountants (ACCA), in cooperation with the Vietnam Association of Accountants and Auditors, organized a seminar Mar. 27 on international financial reporting standards, global practices and adoptability in Vietnam.

The seminar, held in Hanoi, focused on issues involving good practice for international financial statements in Europe and Malaysia, issuance and adoption of accounting standards in Vietnam as well as challenges to financial statement compilation amid the economic downturn.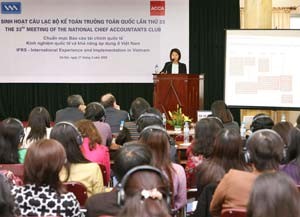 A view of the workshop
Participants also discussed the challenges and opportunities faced in improving the financial statement matrix in Vietnam.
As Vietnam grows more involved in the world economy, the number of foreign businesses and large multi-national companies in Vietnam is rising, and the introduction of international financial reporting standards will consolidate the confidence of foreign investors and improve financial information transparency.