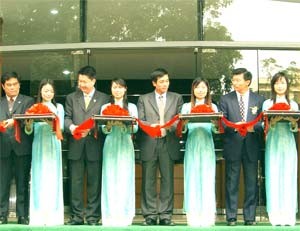 ACE Life representatives cut the ribbon to open the Ha Noi Branch (Photo: Courtesy of ACE Life)
ACE Life has opened its Ha Noi Branch, the first branch of the American life insurer, which started business operations in Viet Nam in September 2005.
"Based on our research, we estimate about half of Ha Noi's population are potential life insurance policyholders," ACE Life CEO Lam Hai Tuan said to the branch opening ceremony on March 15, 2006.
"Our optimism is based on the Vietnamese tradition of protecting one's family and loved people, a tradition that is often exhibited through the purchase of life insurance," he said.
"We are keen to ensure that when the Vietnamese make a decision to purchase life insurance, ACE Life is there to offer a diversity of innovative products to suit their needs."
The Ha Noi Branch is located inside Toserco Building, 273 Kim Ma Street. It represents the company's third office – the other two are in Ho Chi Minh City. An office opening in the southern city of Can Tho is set for April 2006, and another in the central city of Da Nang is planned by the end of the year.
The company estimates that it has about 1,400 policyholders now. In early March, the life insurer launched a product called Universal Life. The latest product offers a lifetime insurance coverage combined with a savings component, and the policyholders can change their death premiums according to their current insurance coverage needs.
The Vietnamese Government licensed ACE Life to do business in Viet Nam in June 2005. ACE Life is an arm of the US-based ACE Group, whose representatives joined a US trade mission to Viet Nam on March 8 - 11 to sound out business opportunities in the country.

The mission, including executives of 21 leading American companies, showed their support for Viet Nam to join the World Trade Organization, and said they would back the country when the US Congress votes on granting the country permanent normal trade relations status.
Related link
ACE Life in Viet Nam: www.acelife.com.vn
Related stories:
US Businesses Back Viet Nam in Permanent Normal Trade Relations /Business/2006/3/46133/
US Businesses Back Viet Nam's WTO Entry Bid /Business/2006/3/46020/