Policyholders of ACE Life can now benefit more from the American life insurer now that it has launched an accelerated death benefit option for its Whole Life and Universal Life policies.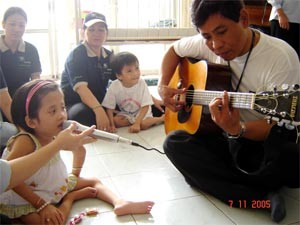 In the filed photo, ACE Life agents play with disabled kids at a shelter for the children in Ho Chi Minh City during an ACE Life day for the community in November 2005. (Photo: Tuong Thuy)
The unique option, in Viet Nam at least, allows policyholders to receive a portion of their death benefits upon being diagnosed by doctors with a terminal illness with a life expectancy of 12 months or less.
"The option is offered without any additional premium requirements. It is primarily aimed to provide financial support to policyholders with an incurable illness," said ACE Life CEO Lam Hai Tuan.
He reckons Vietnamese families 'never say die', as it were, meaning that they will do and spend whatever they can to try and prolong the life of a loved one, and care little for a doctor's prognosis. So an early payout of death benefits will come in very handy.
"ACE Life believes that this benefit will become a viable financial source for an insured requiring special medical treatment. The addition of this benefit is part of ACE Life's goal to raise awareness among its customers about the value of insurance in protecting individuals and their families against unforeseen circumstances," he said.
A Whole Life or Universal Life policyholder may request a benefit of up to half of the current policy's face value but not over VND500 million and at least VND50 million.
The policyholder must be diagnosed with a terminal illness with a life expectancy of 12 months or less by a certified medical doctor and confirmed by ACE Life's appointed doctors.