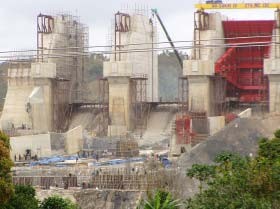 A power plant under construction in the Central Highlands province of Lam Dong (Photo: Tuong Thuy)
The Asia Development Bank (ADB) has approved a technical assistance grant of one million euros provided by the French Development Agency (AFD) to help develop efficient power trade in the Greater Mekong Sub-region.
ADB announced in late January 2006 that the technical assistance would help develop institutions to promote power trade cooperation in the sub-region, consisting of Cambodia, China, Laos, Myanmar, Thailand and Viet Nam. The assistance will focus on four priority components.
"It will develop a systematic and integrated action plan on regional power trade development, create institutions to implement tasks associated with regional power trade in the initial stages, and boost capacity in GMS member countries," the ADB announcement said.
The technical assistance will also develop a platform or database for information exchange and a mechanism for communications among the six countries' power agencies to facilitate regional power trade.
The total estimated cost of the technical assistance is US$1.3 million. The grant from AFD, administered by ADB, will cover about US$1.2 million of this, and the balance will be shouldered by the GMS member countries. The technical assistance will be carried out until December 2007.