The Asian Development Bank (ADB) will continue its support for infrastructure development in Vietnam, said ADB Vice President for Knowledgement Management and Sustainable Development Bambang Susantono at a press conference on March 8.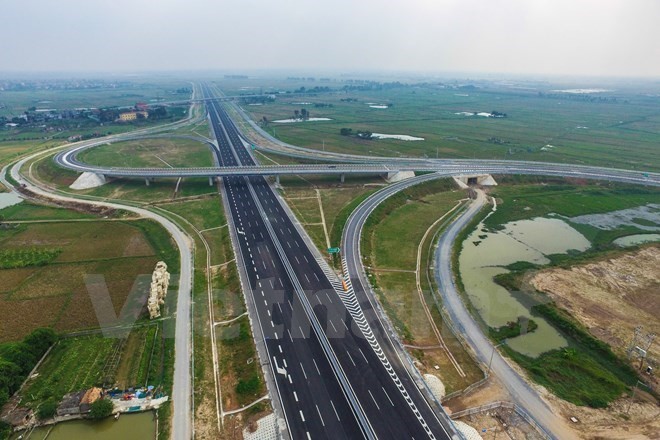 An aerial photo of Hanoi-Hai Phong Expressway (Photo: VNA)
He suggested Vietnam pay further attention to fiscal renovation, including tax reform, spending re-orientation as well as prudence in borrowing and collecting non-tax revenues.
In addition to encouraging the participation of private sector, creating attractive environmental climate and deepening the capital market, the Vietnamese Government should sort out priorities for spending and investment, he highlighted.
Meanwhile, ADB Country Director for Vietnam Eric Sidgwick underlined measures to attract private investment in infrastructure development as well as ADB's role as a sponsor for infrastructure projects in the coming time.
At the press conference, the ADB representative introduced the report "Meeting Asia's infrastructure Needs", which covers the region's power, transport, telecommunications and water and sanitation infrastructure. It comprehensively examines current infrastructure stocks and investments, future investment needs and financing mechanisms for developing Asia.
Developing Asia will need to invest USD 26 trillion from 2016-2030, or USD 1.7 trillion  per year, if the region is to maintain its growth momentum, eradicate poverty and respond to climate change. Without climate change mitigation and adaptation costs, USD 22.6 trillion will be needed, or USD 1.5 trillion per year.
Of the total climate-adjusted investment needs during the period, USD 14.7 trillion will be for power and USD 8.4 trillion for transport. Investment in telecommunications will reach USD 2.3 trillion, with water and sanitation costs at 800 billion USD over the period.
East Asia will account for 61 percent of climate-adjusted in investment needs through 2030. As a percentage of GDP, however, the Pacific leads all other sub-regions, requiring investments valued at 9.1 percent of GDP. This is followed by South Asia at 8.8 percent, Central Asia at 7.8 percent, Southeast Asia at 5.7 percent and East Asia at 5.2 percent of GDP.