The Asian Development Bank (ADB) signed financing agreements with eight Vietnamese banks in Hanoi May 20 to enhance trade.
The eight banks are Asia Commercial Bank (ACB), Military Bank, Saigon Thuong Tin Bank (Sacombank), Techcombank, Vietnam Bank for Agriculture and Rural Development, Vietnam Bank for Industry and Trade (VietinBank), Vietnam Export Import Bank (Eximbank), and Vietnam International Bank.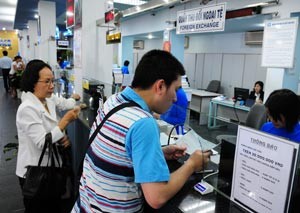 Customers at an office of Asia Commercial Bank, which is one of the eight Vietnamese banks that ADB signed financing agreements with on May 20 to boost trade (Photo: SGGP)
The Manila-based ADB says it expects to sign similar agreements with two more Vietnamese banks shortly, taking the total number of participating Vietnamese banks to 10.
The regional lender did not announce the values of the signed pacts.
The agreements come at a time when the global crisis has made financial institutions increasingly reluctant to lend because of the need to shore up their own capital.
"Credit for trade financing has declined everywhere, including in Vietnam. These agreements will have ADB work with Vietnamese banks to support local companies doing international trade. That will, in turn, help keep people in jobs," Philip Erquiaga, general director of ADB's Private Sector Operations Department, said in an ADB statement.
The agreements are part of the regional lender's recently expanded US$1 billion trade finance facilitation program that is expected to garner up to US$15 billion in trade support in Asia by the end of 2013, ADB says.
Ayumi Konishi, ADB's country director for Vietnam, said, "Financing under the facilitation program can be made available to both private firms and to state-owned enterprises. Vietnam needs to promote trade to counter the adverse impact of the global economic slowdown."
"Through the program and other assistance, ADB is committed to helping Vietnam strengthen its resilience and to promoting its economic recovery," he added.
The country's exports dropped by 19% on year in April to US$4.3 billion while imports tumbled 35% to US$5.5 billion in the same time period, according to the General Department of Customs. This resulted in a trade deficit of US$1.2 billion in April after recording surpluses for the first three months of the year.