The Asian Development Bank (ADB) and Sai Gon - Ha Noi Commercial Joint Stock Bank (SHB) February 21 in Hanoi signed a Revolving Credit Agreement (RCA). Under the agreement ADB's Trade Finance Program (TFP), ADB will provide a $20 million direct loan to SHB to support pre-shipment and post-shipment trade transactions.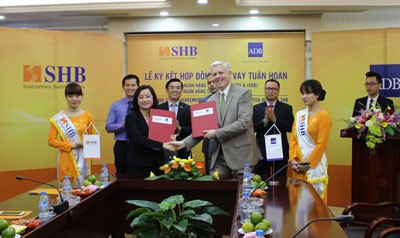 At the signing ceremony ( Photo: Coutersy of ADB)
The revolving credit facility will enhance SHB's capacity to provide trade-related loans to its clients, including for pre-export finance of agriculture products, garments, and electronics for export to markets such as China, Japan, and Singapore.

"We are pleased to work with SHB to increase support to companies, including small- and medium-sized businesses. More support for trade means more economic growth and more job creation," said Eric Sidgwick, ADB Country Director for Viet Nam.
The TFP has been operating in Vietnam since 2009 and currently works with 11 local partner banks. To date, the program has conducted 5,262 transactions, supporting $7.8 billion in trade in Viet Nam—mostly benefitting small- and medium-sized enterprises
SHB became a partner bank in ADB's TFP in early 2016. In less than 12 months, TFP has supported a total of 25 SHB transactions worth over $160 million. The revolving credit facility is TFP's second agreement with SHB.