The Asian Development Bank has signed an agreement to lend US$25 million to Ho Chi Minh City-based Sacombank to help small and medium-sized enterprises (SMEs) in Vietnam gain better access to credit.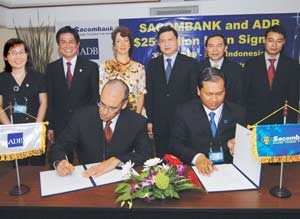 Representatives of ADB and Sacombank sign the deal in Bali on May 3, with State Bank of Vietnam Governor Nguyen Van Giau (standing, 3rd R) witnessing (Photo: courtesy of Sacombank)
It is ADB's first loan to support the country's leasing sector.
Sacombank says the lender and its leasing unit, Sacombank Leasing Company, will use the six-year loan to provide SMEs with both regular term credit and term lease credit for maturities of 3-5 years.
By supporting SMEs, the loan will also help create jobs in urban areas, particularly for semi-skilled workers.
ADB and Sacombank signed the loan agreement on May 3 during the ADB 42nd annual meeting in Bali, Indonesia. Present at the signing were Sacombank Chairman Dang Van Thanh, CEO Tran Xuan Huy, and Philip Erquiaga, head of the Private Sector Operations Department at ADB. State Bank of Vietnam Governor Nguyen Van Giau also witnessed the signing.
Sacombank is a leading bank in Vietnam. It was the first bank to be listed on the country's stock market.