Although the economy is facing a slump, advertising revenues in 2012 posted a growth rate of 30 percent compared to the previous year.
Data given by Kantar Media Vietnam Company showed that last year, firms spent VND20.4 trillion on advertisements via mass media. Of this,  television commercials accounted for more than VND18.24 trillion, up 136 percent over the previous year; newspapers and magazines touched about VND2.15 trillion, down 8 percent; and radio commercials dropped by nearly 20 percent to nearly VND25 billion. This was an impressive growth for television commercials, which raised the general growth of mass media advertising by 30 percent compared to that in 2011.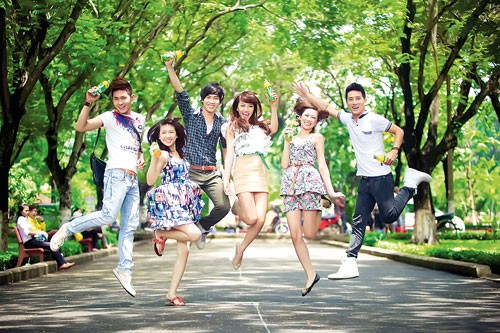 A scene of television commercial of Tan Hiep Phat. (Photo: SGGP)
Kantar Media Vietnam forecasts that this year, television commercials will continue to stay at leading spot, as this is the most attractive form of advertising. Fast moving consumer goods took the top slot among other sectors in television commercials, led by two multi-national companies, Unilever and Procter & Gamble.
One director of a company in the fast moving consumer goods sector in Vietnam said that with higher liquidity, many multinational companies paid millions of US dollars for commercials to oust local firms from both market share and popularity.
According to him, in order to keep their position in the domestic market, local firms have to focus on improving their distribution network and sometimes appear on television so as to remind consumers of their product, although they cannot compete with big players like Vinamilk, TH True Milk, and Tan Hiep Phat.
These companies have great financial resources as their investments in television commercials were not less than FDI companies. However, their commercials remained seasonal, instead of constant like those of multinational companies.
Some marketing experts said that firms should intensify advertising their products to consumers because consumers were tightening spending due to economic recession.
Meanwhile, although many firms did not have money to join this fierce advertising race, they still operated healthily, partially thanks to the effectiveness of Vietnamese products. Instead of choosing foreign-made products which were widely advertised on television, many consumers only chose Vietnamese products because of affordable prices and improved quality.
A survey of Vietnamese consumers showed that they have gradually changed the habit of preferring foreign-made products and returned to buying locally-made products. For instance, this year consumers preferred domestic brands of sweetmeats such as Kinh Do, Bibica, and Pham Nguyen. In the past three years, despite the economic slump, market share of Bibica continually rose from 8 percent in 2008 to 18 percent in 2012.
A director of a company shared that instead of making commercials, firms have done well with distribution and direct discounts to dealers and consumers. It was hard to see Kim Hang Cookware, Dai Dong Tien Plastic, Cho Lon Plastic, My Hao, or Bidrico on television commercials but they still have a consumer market.
Nguyen Dang Hien, CEO of Bidrico, said that his company's strategy was to dominate rural markets, then use it as a springboard to enter urban markets. This way his company will either not spend much money for advertising or advertise through provincial television channels at much cheaper costs.
Similarly, My Hao Chemical Cosmetics Joint Stock Company also said that it set aside a rational expense for commercials, mostly for commercials on provincial television channels or radio, and print newspapers.
However, firms should not neglect improving the quality of their products, building brand names, and upgrading distribution networks or else multinational companies will easily crush them when the economy lifts again and consumers open spending.