More than a year has passed since domestic carrier Pacific Airlines began using the brand name of Australian budget airline "Jetstar" but the legitimacy of its operation and its use of the name remains mired in controversy.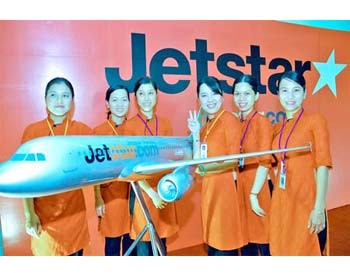 Jetstar Pacific flight attendants at the inauguration of the budget carrier's new brand name in May 2008 (Photo: SGGP)
Recently Jetstar Pacific Airlines Joint Stock Aviation Company (JPA) applied to the Ministry of Transport for a license since its temporary one will expire in September 2010, sparking off a debate among official agencies.
Two points of contention have arisen: Since the Civil Aviation Law does not allow foreign airlines to operate on domestic routes, is Jetstar Pacific within the law to use a foreign brand and logo in the Vietnamese aviation market?
 
JPA and sovereign fund State Capital Trade and Investment Corporation (SCIC), which controls the state's stake in JPA, said that the use of a foreign logo and brand under a franchise contract is legal.
Since the law does not ban foreign investors from holding a maximum of 49 percent stake in domestic aviation firms, the cooperation between Jetstar Airways and Pacific Airlines, including the use of the brand, does not infringe the law, they said.
But the Civil Aviation Administration of Vietnam and the Ministry of Transport maintain that Jetstar has no right to franchise its right to offer air transport services to local firms outside the scope of the bilateral aviation agreement between Vietnam and Australia.
Deputy Minister of Science and Technology Nguyen Quan said JPA is allowed to use intellectual property rights transferred to it by Jetstar as long as that use does not contravene competition and other laws.
Deputy Minister of Industry and Trade Le Danh Vinh said since domestic air transport is included in the list of goods and services subject to conditions, JPA can operate only when it has a proper license from the agency in charge – the Ministry of Transport.
Lai Xuan Thanh, deputy head of the Civil Aviation Administration of Vietnam, said the brand fee paid by JPA to Jetstar Airways must not be a percentage of its revenue but a fixed amount, and Jetstar and JPA must sign a code-sharing contract.
"Now to consider granting a license to JPA, we once again opine that the firm must change its logo and brand name," he said.
The Ministry of Transport suggested that JPA must create its own logo to get a license.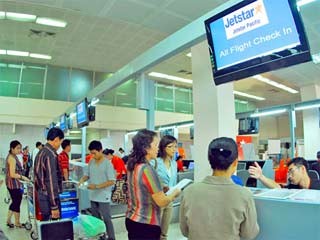 Jetstar Pacific passengers at HCMC's Tan Son Nhat Airport (Photo: SGGP)
Unlike Coca-Cola, Toyota, or Honda, which are entitled to sell their products in Vietnam, Jetstar is a company engaged in air transport services and the Aviation Law bans foreign firms from exploiting the domestic skies, lawyer Nguyen Ngoc Vinh of Ho Chi Minh City said.
"The [use] of a foreign brand name by JPA will be legal only when the law is… abolished," he emphasized. 
In Official Letter 5159/VPCP-KTN, Deputy Prime Minister Hoang Trung Hai instructed that "the issue of license to JPA and its use of logo must be in accordance with Vietnamese law and international practices."
Analysts pointed out if other domestic firms follow in JPA's footsteps, Vietnam's skies would be filled with foreign aircraft.
"In my opinion, JPA's operation are illicit," Vu Duy Du, former vice general director of Pacific Airlines, said.
"Labeling a domestic airline company with a foreign brand through ambiguous contracts has caused disadvantages to the country. The loss suffered by the JPA may amount to thousands of billion dong."
 
In a recent report to the Government, the SCIC said JPA suffer a loss of US$2 million (VND34 billion) per month and the accrued loss may have amounted to $60-70 million so far.
Salaries of up to $700,000 a year, mainly for its foreign managers, big spending on advertising, and the fees for use of the brand name are blamed for this loss.
If the situation is not improved, JPA would "die" some day when it can no longer afford to lose money, Mr. Du warned.