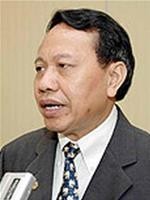 Mr. Luong Van Tu
Viet Nam and the US has reached a bilateral agreement in principle on Viet Nam's accession to the World Trade Organization, and the agreement is fair for both sides, said Vietnamese Trade Deputy Minister Luong Van Tu, chief of the Vietnamese negotiation delegation.
He was speaking with reporters at 11:30 pm on May 14 after he arrived at Noi Bai Airport, Ha Noi, from Washington, where the 12th Viet Nam-US negotiation round took place from May 9 to 14.
He said this round was the hardest ever for both sides. Viet Nam and the US agreed in principle all specific terms and conditions, including technical issues in each.
He added both sides worked out many initiatives to narrow down the gaps. Regarding textile subsidy, for example, the US accepted a period for Viet Nam to eliminate WTO-prohibited industrial subsidies. In return, Viet Nam will carry out all commitments concluded in this 12th negotiation round.
What Vietnamese businesses said
Dr. Vo Tri Thanh, chief of the research board for economic integration policies, the Central Research Institute for Economic Management: Higher Pressure Placed on Reforms
I think the biggest challenge for Viet Nam still is how to improve the Vietnamese economy's competitive edge."
What we have done so far to carry out our commitments for global integration – such as opening the market in general, cutting import tariffs subject to the ASEAN Free Trade Agreement, and opening the service market under the Viet Nam-US bilateral trade agreement – can be considered homework for Viet Nam to join the WTO.
Integration challenges force not only Vietnamese companies to increase their competitiveness, but also the Vietnamese Government to speed up reform efforts. State management needs to be well reformed so that the country can carry out its commitments for the global integration process.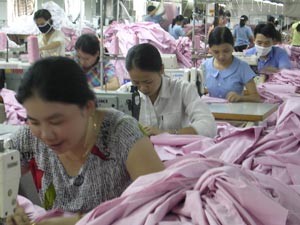 Viet Nam's textile and garment industry can still develop without Government subsidies
Mr. Le Trung Hai, managing director of the Viet Nam National Textile and garment Corporation (Vinatex): Without Government subsidies, the textile and garment industry can still develop.
I would say that the industry can still develop without Government subsidies totaling US$4 billion to support the industry because the subsidy program only benefit some State-run companies in a certain period. But with stiff competition, this support is no longer appropriate.
I mean that growths that the industry has obtained so far do not result from the subsidy program.

Related articles
Viet Nam Announces Results of WTO Talks with US
US Agrees to Deal for Viet Nam to Join WTO