Agricultural, forestry and fishery export turnover posted a year on year reduction of 9.9 percent in the first nine months this year to US$15.14 billion, reported the Ministry of Industry and Trade at a meeting on October 12.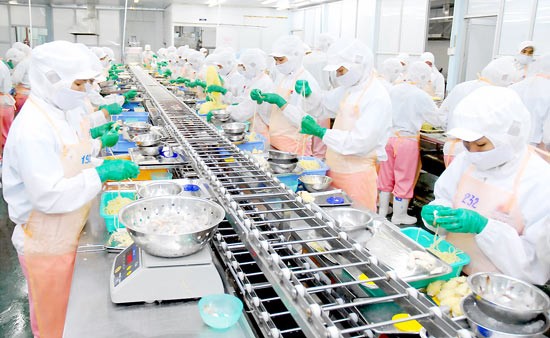 A seafood processing plant (Photo: SGGP)
Items with down export value and volume were mainly seafood, rubber, coffee and rice. The most import reduction was from the U.S. with 47 percent, the EU with 30 percent and Asian countries with 10 percent. 
The export volume of fuel and mineral did not decrease but export price fall dragged value down. Fuel export value dropped 49.7 percent and petrol declined 41.3 percent. 
Manufacturing industry saw export turnover up 19.2 percent. Of these, computers and electronic items posted the highest growth rate with 52.8 percent, phone and components up 34.3 percent, garment 10.6 percent, machine and equipment 9.8 percent. 
Imports of commodities subject to import restrictions reduced 2.9 percent comprising tobacco, automobiles, motorcycles and spares, consumer goods, alcoholic beverages, and cosmetics. 
The main reduction was from consumer goods. Only automobiles saw a strong increase, completely built units (CBUs) of less than nine seaters up 50 percent while components and accessories up 45 percent. 
Total automobile consumption output in local market touched 163,500 ones, up 53 percent over the same period last year. Of these, sales of locally assembled products increased 52 percent. 83,000 CBUs were imported, surging 93.2 percent, import tariff hit over VND21 trillion. 
Total export turnover in the last nine months was US$120.7 billion, a year on year rise of 9.6 percent. Trade deficit was estimated at US$3.86 billion.