As per the Ministry of Agriculture and Rural Development, Vietnam's agro-forestry, seafood exports reached US$15 billion in the first half of the year, an increase of 5.4 percent compared to the same period of 2015.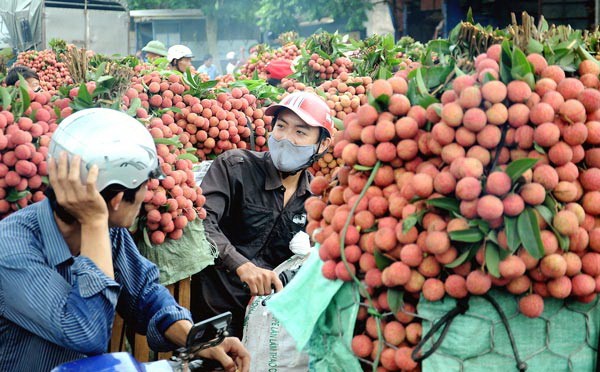 Vietnamese litchi exports increase in the first six month of the year -SGGP
Of the amount, turnover of farm produce was US$7.3 billion or 5.1 percent higher than same period last year.
In the first half of the year, veggie export earned US$1.1 billion. Though it is not as high as seafood, processed wood products, it soared by 33 percent compared to same period last year while seafood just leaped by 3.8 percent. The Fruits and Vegetables Association (Vinafruit) said that China is Vietnam's vegetable major market with turnover of US$692 million in the first five months, nearly 80 percent higher than same period last year and accounting for 70 percent of the country's total veggie export. Vietnamese fruits and veggie have gradually won customers' trust; accordingly, veggie export posted a year-on-year growth.
The Department of Plant Protection said that as Vietnam tightened control over diseases in fruits and improved quality. Vietnamese fresh fruits have been sold in 40 nations in the world conquering difficult markets such as the US, Australia, Japan, New Zealand, South Korea, Chile, Argentina, and Brazil.
In the first six months, veggie and fruit exporters sold over 4,600 tons of longan, dragon fruits, rambutan, litchi, mango and star apple in the US, South Korea, Japan and New Zealand, an increase of 81 percent compared to 2,542 tons in the same period last year. By June 22, the northern province of Bac Giang exported over 32,200 tons of litchi, accounting for 25 percent of the province's total litchi. In 2015, litchi of Bac Giang Province had been sold in the US, Australia, France and Malaysia and this year in Poland Middle East countries.
To facilitate exporters, the authority of Bac Giang Province in cooperation with the Ministry of Industry and Trade and related agencies promoted the fruit and updated the market information continuously to provide for exporter. Thanks to the province administration's great support, the fruits are sold at high price to ensure farmers to have profit.
That's why the Ministry of Agriculture and Rural Development has chosen ten excellent fruits with great potential to export to many countries. Successful exports to the above mentioned countries will pave the way for other fruit exports.