The total export turnover for agro, forestry and fishery products in the first ten months of the year touched US$22.5 billion, a 9.5 percent increase year-on-year, according to the Ministry of Agriculture and Rural Development.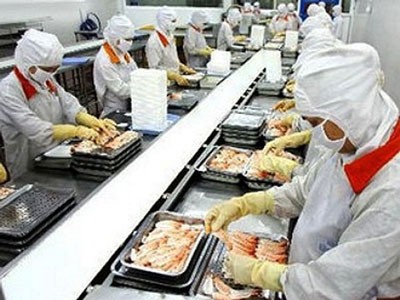 Seafood being processed for export in Vietnam (Photo: VNA)
The Ministry gives a brighter forecast for the global economy in the third quarter, which is a good sign for Vietnamese agro, forestry and fishery products.
Some agricultural products have maintained a stable growth in both volume and value, such as coffee and manioc. The billion dollar agricultural export industry includes seafood, rice, coffee, rubber, wood, cashew nut, and manioc.
For instance, coffee exports in the first ten months exceeded 1.4 million tons, bringing in revenues of about $3.02 billion, a 37.7 percent increase in volume and 32.7 percent jump in value compared to last year, as per figures from the Ministry.
Key markets for Vietnamese coffee are Germany and the US, which have seen a strong increase in exports. In addition, the Indonesian market also increased by 9.4 times in volume and 8.8 times in value, compared to figures last year.
The US, Japan and the Republic of South Korea still remain the largest consumers of Vietnamese seafood.
Manioc and its products have seen a drastic increase in markets like China, South Korea and the Philippines with volumes in ten months touching 3.6 million tons and revenues of about $1.13 billion, a year-on-year increase of 58.5 percent in volume and 38 percent in value.
However, according to the ministry, manioc exports will decrease due to a very limited supply.
Vietnamese rice and cashew increased in volume but its turnover slid. In ten months, 6.9 million tons of rice has been shipped for $3.14 billion, up 8.3 percent in volume but a year-on-year decrease of 8.7 percent in value.
The Ministry also forecast that in 2012, seafood exports from the Mekong Delta could reach a turnover of $6.5 billion. In nine months of the year, the region's aqua exports reached $4.5 billion, a year-on-year increase of 4.3 percent.
The ministry said the region has had stable growth in aqua exports in recent years with volume of aqua products accounting for 65 percent in the entire country. Two main important exports of the region are shrimp and pangasius which maintained their top ten places among world exports.
As of now, 23 seafood enterprises have been approved to export to the EU market.