Agricultural production in Vietnam has achieved a trade surplus of US$9.2 billion this year, easing much of the country's trade deficit.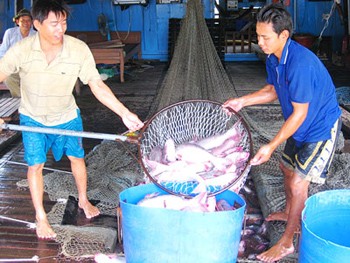 Pangasius exports are the lifeline of people in the Mekong Delta (Photo: SGGP)
That was announced at a conference hosted by the Ministry of Agriculture and Rural Development and chaired by Deputy Prime Minister Nguyen Thien Nhan, to review the agricultural industry in 2011.
According to Cao Duc Phat, Minister of Agriculture and Rural Development, agricultural production met with many difficulties in 2011, what with droughts in the northern region in the beginning of the year and perpetual flooding in the Mekong Delta later.
Despite such adverse conditions, the country's rice production still managed to reach 42.3 million tons, an increase of 2.3 million tons over last year. National food security was thus ensured and rice exports jumped to nearly 7.2 million tons.
Minister Phat said that this was an unexpected record hike, which helped stabilize the market, curb inflation and ensure social security, as desired by Prime Minister Nguyen Tan Dung in his statement early this year.
Prices of agricultural products have sky-rocketed in the world market, and domestic bumper crops have helped rake in huge profits for Vietnamese farmers.
Exports of forestry, aqua and agro products yielded a turnover of US$25 billion this year, an increase of $5 billion over 2010.
Four commodities achieved the highest export turnover namely, seafood with $6.1 billion, wood furniture with $4.1 billion, rice with $3.7 billion and rubber with $3.3 billion.
However, Minister Phat expressed concern on the stability of agricultural production as well as exports, as the value of farm produce soared by only 2.3 percent this year, not 3 percent as expected by the General Statistics Office. It was 3.5-4 percent the previous year, he added.
Minister Phat said that farm production and consumption might meet with more difficulties next year. Target set for next year aims to produce 7.58 million tons of rice and export only 6.5-7 million tons.

Value of farm produce will rise by 4-4.5 percent with the total export turnover expected to be $25.5-26 billion.
The above targets require much effort from farmers and relevant authorities. Provinces will have to pay more attention to overcome set-backs and obstacles in agricultural production.
Deputy Prime Minister Nguyen Thien Nhan asked relevant departments and concerned authorities to focus on promoting good quality farm produce, foresee prices of export products and applying advanced technology to increase productivity.