The Ministry of Agriculture and Rural Development reported that the export turnover of agricultural, seafood and forestry products was estimated to reach US$2.57 billion in November, taking the industry's export value for the last 11 months to US$27.41 billion--a year on year fall of 1.9 percent.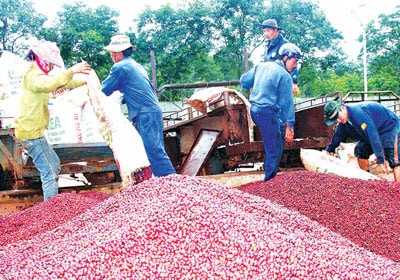 Coffee export value reduced up to 30.2 percent in November
In November, export value of agricultural products was US$12.74 billion, down 4 percent over the same period last year. The most value reduction was from coffee with 30.2 percent and rubber with 15.5 percent.
Seafood export value hit US$6.01 billion, a year on year drop of 16.4 percent. The most decrease was from U.S. market with 25.21 percent.
Forestry items brought US$6.4 billion in export value, up 8.2 percent.
Traders and businesses in the Mekong Delta were found stepping up purchase to implement contracts that had been signed with Indonesia and the Philippines.