According to the Ministry of Agriculture and Rural Development, the export value of agro-aqua-forestry products in the first quarter of this year reached US$6.56 billion, an increase of 6.2 percent over the same period last year.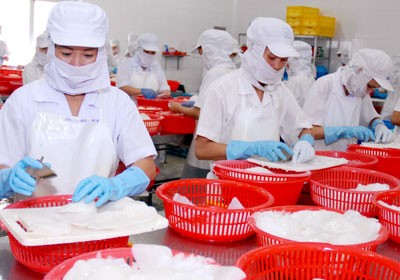 Cuttlefish being processed for export to EU and Japan (Photo: SGGP)
The export value of agricultural products was estimated at $3.26 billion, down 5.4 percent and seafood items at $1.21 billion, down 5.9 percent. However, the export value of forestry products reached $1.24 billion, up 16.3 percent year-on-year.
The main agricultural products like rice, coffee and rubber continued to rise in export volume but decrease in value.
Rice exports saw an increase of 34.3 percent in volume but a reduction of 5.7 percent in value. The average export price was only $450 per ton, a fall of 14 percent over the same period last year.
Similarly, coffee export volume and value went down by 21.2 percent and 18 percent, respectively. Rubber exports dropped nearly 37 percent in volume and 16 percent in value.