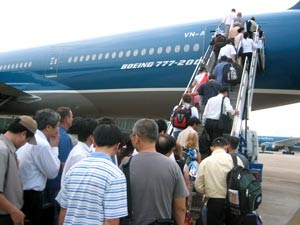 Passengers board a Vietnam Airlines flight (Photo: Tuong Chau)
Vietnam Airlines yesterday made an official apology for recent mechanical problems which led to flight cancellations. Airline officials added that to ensure passenger safety, mechanics had worked carefully to fix the problems and senior management has ordered an inquiry into the matter to determine the origins of the problems.
The aircraft's manufacturers have also been contacted to find out if local weather conditions in Viet Nam could in any way have affected the airplane's engines.
In the meantime, the airline has grounded the A320-311 until investigators can determine why the planes have repeatedly demonstrated cabin decompression.
Nguyen Van Hung, Vice CEO of Vietnam Airlines, said that any planes exhibiting the same mechanical problem twice will be kept out of service.
Vietnam Airlines also affirmed that the cancellations are not due to higher than expected flight volumes, or shortages of aircraft, replacement engines, or maintenance staff.