Realty experts of the US and Viet Nam spent two days in Ho Chi Minh City being guest speakers at a workshop on real estate market development. The audience included more than 100 business people in this field. 
The international workshop took place on May 8-9, 2006, co-organized by the US's National Association of Realtors (NAR), the Vietnam Real Estate Association (VREA) and the Ho Chi Minh City Real Estate Association (HoREA).
The participants were divided into three groups: Group 1 for real estate brokers, Group 2 for real estate developers, and Group 3 for real estate associations.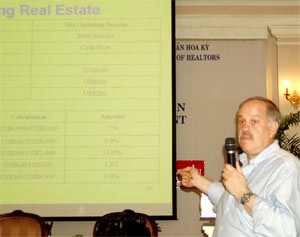 Mr. Howard Gelbtuch delivers his presentation (Photo: Tuong Thuy)
Among the American experts was Mr. Howard Gelbtuch, a principal with New York-based Greenwich Realty Advisors Incorporated, an internationally oriented real estate valuation and consulting firm.
The other guest speakers included Mr. Norm Flynn, Chairman of the International Real Property Foundation (IRPF); Ms. Gail Lyons, a senior NAR executive at the India Institute of Real Estate; Ms. Pat Kaplan, head of Kaplan Real Estate Group in Portland, Oregon.
One of Ms. Lyons' presentations was about real estate brokerage management, while Ms. Kaplan shared her experience with people from real estate associations like VREA and HoREA.

VREA was founded in 2002 and now has over 180 members, who are individuals or real estate companies specialized in investment, trade, property management and other realty-related activities.

Link
The US's National Association of Realtors