The government and banks should work together to stabilize the price of foodstuff for aquatic animals and offer preferential loans to aqua-farmers to ensure seafood supplies for export, said Pham Thi Dieu Hien, general director of Binh An Seafood Joint Stock Company (Bianfishco).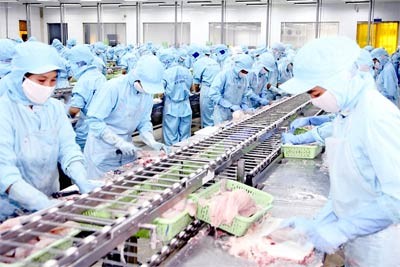 Workers process tra catfish for export at Bianfishco factory in Can Tho City (Photo: SGGP)
According to the Viet Nam Association of Seafood Exporters and Producers (VASEP), though seafood export has increased since early this year, farmers have still suffered losses and faced many difficulties.
 
The country earned US$698 million from exporting 208,000 tons of seafood in the first two and a half months, year-on-year increases of 20.6 percent and 18.6 percent in terms of quantity and value respectively.
 
Ms. Hien said seafood exports have increased dramatically in early months compared to last year, and  Bianfisco gained a profit of over VND16 billion (US$842,000) in the first three months.
 
A manager of Nam Viet Seafood Joint Stock Company in the Mekong Delta province of An Giang, said the company earned a profit of VND20 billion ($1.05 million) from exporting US$20 million worth of aquatic products in the first quarter.
 
While exporters reaped profits, many farmers have incurred losses because the price of foodstuff for aquatic animals has soared sharply while seafood prices have decreased.
 
The price of tra catfish dropped to VND16,200 per kilogram in the past few days, while catfish-feed surged to VND8,200-8,500 per kilogram.
 
Meanwhile, the price of shrimp has recently increased sharply, but shrimp breeders haven't had shrimp for sale.
 
Le Chi Binh, vice chairman of An Giang Fisheries Association, said catfish breeders incurred losses in 2008 and 2009 due to a decrease in catfish price. In early 2010, they made some profits as the price increased lightly. However, right after that, the price of catfish-feed soared sharply, and much more than catfish price, making breeders suffer losses again.
 
In addition, he said, banks have refused to give them further loans so that many have had to halt the breeding.
 
Vo Van Nam, a catfish breeder in Can Tho City, said, "I sustained losses of VND1.5 billion ($79,000) in the last harvest. At present, I am broke and get into debt."
 
Mr. Nam said he has had to leave his fish ponds empty since he has failed to access loans to keep breeding.
 
According to the Fishery Association of Mekong Delta Provinces, 30-50 percent of aquaculturists have closed down their business, and if the problem is not solved , there will be a shortage of fish for export.
 
Due to severe weather, shrimp has been dying in huge numbers in Bac Lieu, Long An, Soc Trang, Ca Mau, and Tra Vinh provinces, leading to a shortage of shrimp. 
 
As many as 32 seafood factories in Ca Mau have operated at only 40-50 percent of their capacity.
 
Exporters are worried that the raw-material shortage will be long-term and drastically affect their business.