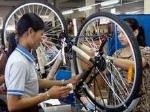 bicycle made in Viet Nam
Argentina has launched anti-dumping investigation into bicycle spokes imported from Viet Nam, Indonesia and Malaysia, the Vietnamese Ministry of Trade said.
The ministry and Viet Nam's Commercial Service in Argentina are preparing to cope with the case.
The ministry's Competition Management Division is supplying relevant information. The division's address is 21 Ngo Quyen Street, Hoan Kiem District, Ha Noi, tel: (04) 8262 538, email:
qlct@mot.gov.vn
.