The Ministry of Agriculture and Rural Development announced that agricultural industry plans to switch to grow other plants on 130,000 hectares of rice field this year.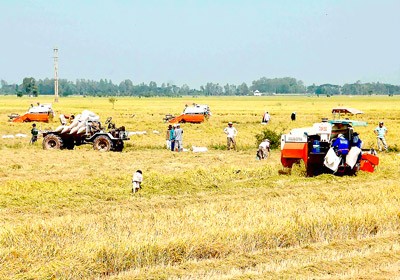 Around 130,000 hectares of rice will be cut in 2014. (Photo: SGGP)
Despite a reduction in the area of rice field, the industry will focus on developing large rice fields of 200,000-250,000 hectares where rice varieties that are suitable for export will be cultivated in the regions of Mekong Delta and Red River Delta.
Total rice area across the country is estimated at 7.6 million hectares this year with production reaching 43.4 million tons of rice.
The ministry also instructed provinces to expand the area of cornfield to 1.23 million hectares, an increase of 73,000 hectares compared to the previous year, and continue to cultivate new maize varieties with high productivity in order to achieve a production of 5.66 million tons of corn.
On the other hand, the industry will continue to maintain the area of cassava at around 550,000 hectares with production at 10 million tons to ensure supply for cattle-feed manufacturing industry and industrial manufacturing.