The 47th ASEAN Economic Ministers' Meeting (AEM 47) will be held in Kuala Lumpur from August 22-25 to put the finishing touches on the formal establishment of the ASEAN Economic Community (AEC) by the end of this year.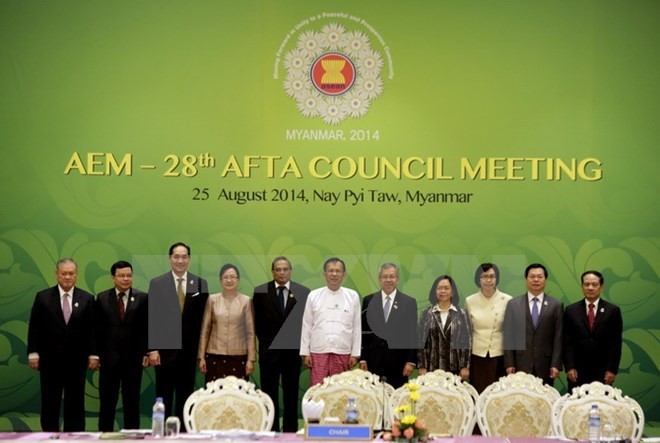 The 46th ASEAN Economic Ministers' Meeting in Myanmar last year. (Photo: VNA)
The information was released by Mustapa Mohamed, Malaysian Minister of International Trade and Industry, during a press conference in Kuala Lumpur on August 20.
He said AEM 47 will focus on implementing AEC measures, especially the completion of commitments agreed to under the AEC 2015 Blueprint, and developing the ASEAN Post-2015 Economic Vision 2025, strategic action plans for the next 10 years and the ASEAN Small and Medium Enterprises Master Plan 2016-2025.
Economic ministers from Australia, Canada, China, India, Japan, the Republic of Korea, New Zealand, Russia and the US will participate in the meetings with the ASEAN economic ministers.
The ASEAN economic ministers will also be meeting with representatives from the ASEAN Business Advisory Council, the East Asia Business Council, the Federation of Japanese Chambers of Commerce and Industry in ASEAN, the US-ASEAN Business Council, the Canada-ASEAN Business Council and the ASEAN-India Business Council.
In addition, the EU-ASEAN Business Summit and the East Asia Investment Forum will be held on August 23 and 24, respectively.
Mustapa Mohamed held that the AEC seeks to formally establish a single market and production base among the 10 ASEAN member states, adding that the eventual integration of national economies into a single regional bloc is expected to facilitate the creation of a seamless trade and investment regime in ASEAN.
It will also propel the ASEAN economy, whose GDP currently is estimated at US$ 2.7 trillion, into a global powerhouse with GDP expected to rise to a combined US$ 4.7 trillion by 2020, the official said.