ASEAN - India Business Fair 2011 opened in New Delhi, India on Wednesday to promote business relations and investments between India and ASEAN countries.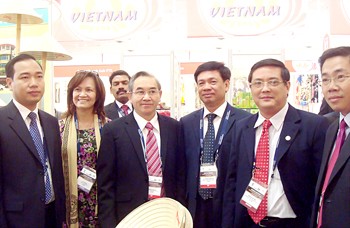 Vietnamese delegation at the ASEAN - India Business Fair opened on March 3 in New Delhi
It is the first fair of its kind hosted in India with the participation of 10 ASEAN countries after the ASEAN – India Free Trading Agreement took effect on January 1 last year.
The fair covers a total area of 16,000 square meters and has the participation of  350 businesses from 11 nations displaying commodities in various fields including aviation, information technology, telecommunication, tourism, electronics, power and precious stones. The fair is on till March 6.
Nguyen Thanh Bien, Deputy Minister of Industry and Trade and Nguyen Trung Tin, Ho Chi Minh City People's Committee vice chairman led a delegation of Vietnamese leaders and businesses to participate in the fair.
Vietnam introduced its farm products and food items, handicrafts, garments and shoes, plastic goods and electronic components. HCMC alone has been represented by 22 businesses with over 100 products at the fair.
While in New Delhi, Mr. Tin visited the Indian Council for Cultural Relations (ICCR) and spoke of his city's socioeconomic achievements in 2010 and plans to grow the economy in 2011. He hoped that the ICCR would assist in advertising his country and city's image to Indians.
Anwar Halem, the ICCR department head said that the visit of the Vietnamese delegation would considerably contribute to promoting cultural exchanges and business investments between the two countries.